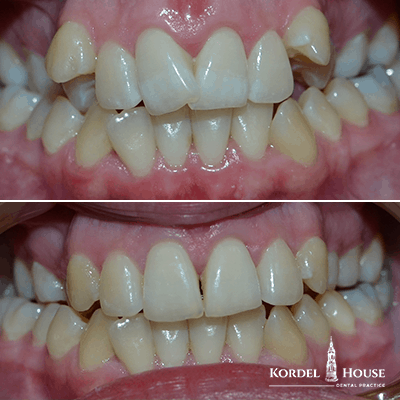 Invisalign® Lincoln Before and After
Invisalign® Lincoln Before and After Photos
Invisalign® teeth straightening in Lincoln uses a series of nearly invisible, removable aligners that are custom-made specifically for your teeth. Invisalign Treatment At Kordel House Dental Practice in Lincoln starts with a consultation with our Invisalign-trained Dentist. Your dentist will evaluate your smile and then take a 3D Digital Scan to develop a customised digital treatment plan that showcases the step-by-step transformation of your before and after smile. Once you approve your plan, your custom made Invisalign aligners will be made. You will wear each set of aligners for 20 to 22 hours a day, changing to a new set of aligners every 1 to 2 weeks, as directed by your Invisalign Dentist. Each set of aligners will gently and gradually shift your teeth into place, according to your treatment plan, until you reach your beautiful new smile.Invisalign® is an excellent way to straighten your teeth and adults of all ages often prefer it over traditional metal braces.
Benefits of Invisalign:
More comfortable to wear than traditional metallic braces
They are near invisible and discrete
You can brush and floss like normal
You can eat like normal with no dietary restrictions unlike traditional braces
Custom made treatment plan and closely supervised by a dentist unlike cheap DIY aligners
If you are considering Invisalign treatment in Lincolnshire(Sleaford, Woodhall Spa, Lincoln, Louth, Market Rasen), before and after Invisalign® teeth straightening photos can be useful if you are considering  Invisalign® treatment. The before and after Invisalign treatment pictures below can help you imagine how Invisalign can help you achieve a straight healthy smile. Invisalign has helped millions to regain a healthy confident smile. At Kordel House Dental Practice in Lincoln , our Invisalign dentist is trained to do all ranges of Invisalign orthodontic treatment(Invisalign Full Provider) from complex to mild cases. Most of the Invisalign cases are finished in 4 -6 months.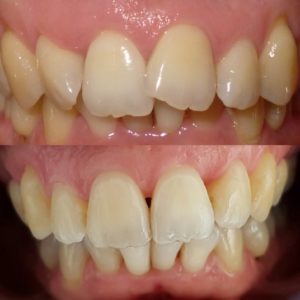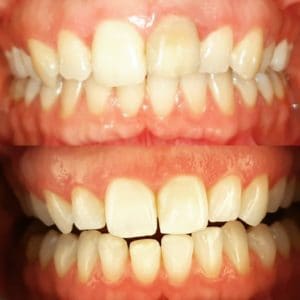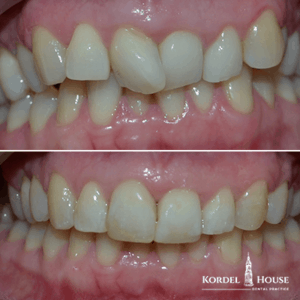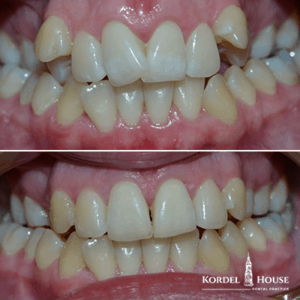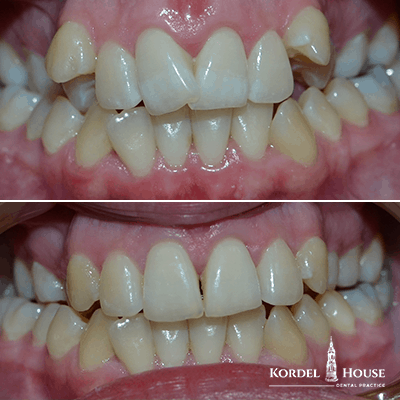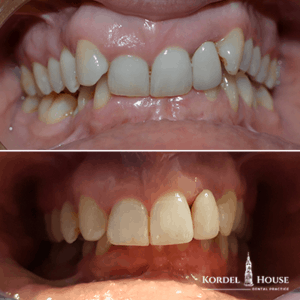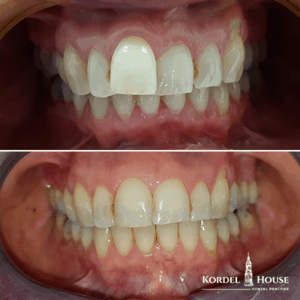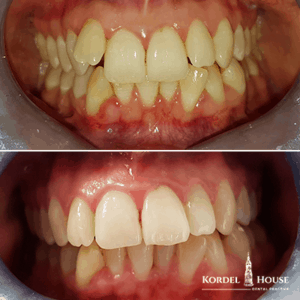 P
P
At Kordel House Dental Practice in Lincolnshire, we see Invisalign as part of our smile makeover. We do realise that sometimes Invisalign itself may not be enough to achieve your perfect smile due to the shape, wear or colour of your teeth. We believe in the Align, Bleach and Bonding concept. All our Invisalign patients as part of their smile makeover have their teeth straightened first with Invisalign aligners. To make your smile perfect we do teeth whitening using premium Enlighten teeth whitening system(the only teeth whitening system which guarantees B1 Shade) followed by composite bonding.
Contacts us on 01507211833at Kordel House Dental Practice in Lincolnshire to transform your smile with Invisalign in Lincoln, Market Rasen, Sleaford and Woodhall Spa.