Straight Teeth in as Little as 3 Months
These days, clients get to choose from a wide variety of orthodontic options, particularly those who suffer from misaligned teeth or bite issues.
The Inman Aligner has been endorsed by many experienced dentists as being a highly efficient and permanent solution to straightening front teeth.
If you want to enjoy a straighter and more natural looking smile, along with a healthier set of teeth and none of the discomfort associated with metal braces, the Inman Aligner is perfect for you.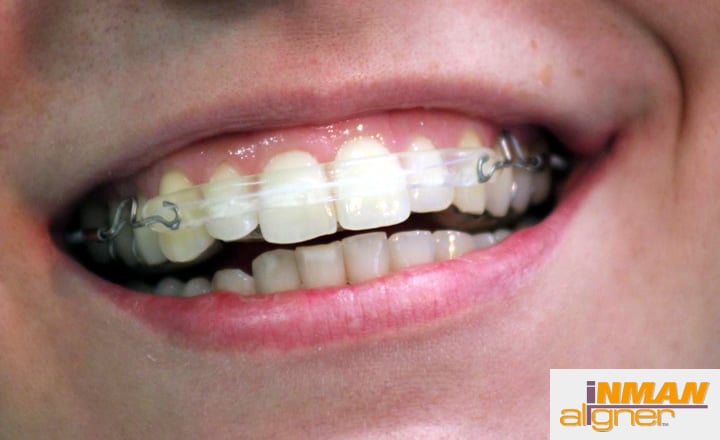 Quick, Removable and Affordable
Inman Aligners are a removable orthodontic appliance, typically worn 23 hours each day, for a period that may range between 6 and 16 weeks. They are one of the most sought-after and well-endorsed front teeth straightening solutions currently available.
Fixed braces or clear aligners work on a full arch of teeth – Inman Aligners are a single and removable orthodontic appliance that gently moves the front teeth only (your smiling teeth).
It is not only a more affordable, but also a highly non-invasive alternative for those who require their front teeth to be straightened only.
Given the shorter treatment times and lower forces which act on the front teeth, Inman Aligners are perfect for anybody looking to improve their smile within a short space of time with little impact on their life.
Our friendly team are here to help you, contact us today for more information

 
Frequently Asked Questions
Does it take long to get used to them?
Give yourself about a week to get used to wearing them. As is the case with any foreign object in the mouth, higher than normal salivation may occur for the first 24-48 hours. Additionally, your speech might be affected for about a week or so – this is typically the case with any other orthodontic appliance including braces.
Is treatment uncomfortable?
Not at all – due to the gentle yet steady forces generated by an Inman Aligner, it can be easily tolerated by anyone. However, should you feel any discomfort, take a mild painkiller such as paracetamol for the first few days.
How do I know if I can use the Inman Aligner to straighten my teeth?
We provide free Inman Aligner consultations to anyone who is looking to learn more and to find out if they are suitable for the Inman Aligner. Simply call our friendly team today to book your appointment.
Happy Patients
Thank you so much for my bridge and all your hard work
Happy Patients
Thank you so much for my lovely new smile! I have never enjoyed smiling so much – Life Changing!
Happy Patients
Thank you for all your support, hard work and humour during my treatment recently. I very much appreciate all the effort and the end result!!!
Happy Patients
I am a dental phobic and have been terrified of the dentist since I was six years old (I am also 73 now). The reason why I tell you this is because in case you are a dental phobic, pleas be brave and go, you will not regret it and nothing will be done against your will. Perhaps you have children or just want to visit for treatment. I urge to join this practice and be reassured and happy as I am.
Happy Patients
I can't thank you enough for the gift of straight teeth! Thank you for your expertise, always being so friendly and helpful and for going the extra mile in fitting me in your Saturdays and after work too. I appreciate all that you have done for me.
Your Straight Teeth Experts
Our friendly and experienced dental team is here to help you. Click on the images below to learn more about your dental team.
Don't wait another year, your dream smile is just a click away
Speak to one of our friendly team members now to get more information
Speak to our experts now