Ever wondered what it would take to have perfectly straight teeth that not only look great but allow you to clean them with ease? Cfast clear braces are the ultimate solution, which are also suitable for all ages, discrete and can straighten teeth usually within 6 months!
Through Cfast Braces, our dentists will help you align your teeth, restore your confidence and improve your overall dental health. Cfast helps offer a solution to certain dental problems that many people face on a daily basis, such as:
Crowded teeth
Gappy teeth
Protruding teeth
Overbite, underbite or cross-bite
Crooked teeth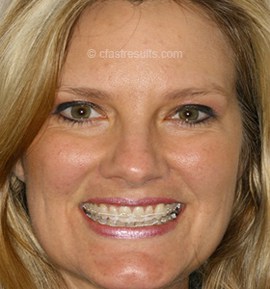 Straight Teeth in 6 Months
If you are looking to straighten your teeth but don't like the idea of wearing braces for extended durations, Cfast short-term braces are ideal. These are high-speed braces that can last for approximately six months and most adults prefer them due to the quick results they deliver.
The benefits of Cfast clear braces go well beyond just aesthetic appeal or improving the overall look of your teeth. They help you chew, bite and even speak more efficiently. Straight and perfectly aligned teeth also contribute to significantly improved oral health.
You can enjoy much healthier gums and teeth because it is easier to floss, clean, and brush straighter teeth.
Our friendly team are here to help you, contact us today for more information

 
Frequently Asked Questions
How long will I need to wear braces?
This largely varies from person to person, depending on their teeth. We can, in most cases, straighten teeth within 6 months, irrespective of your age or current dental structure.
Are Cfast braces for teenagers?
There is no age restriction with Cfast braces and are suitable for teenagers as well as adults.
Are there any other brace systems that you offer?
We understand that fixed braces may not be the ideal brace for every person so we also provide removable Invisalign braces as well as the Inman Aligner. All designed to give you the perfect smile.
Happy Patients
Thank you so much for my bridge and all your hard work
Happy Patients
Thank you so much for my lovely new smile! I have never enjoyed smiling so much – Life Changing!
Happy Patients
Thank you for all your support, hard work and humour during my treatment recently. I very much appreciate all the effort and the end result!!!
Happy Patients
I am a dental phobic and have been terrified of the dentist since I was six years old (I am also 73 now). The reason why I tell you this is because in case you are a dental phobic, pleas be brave and go, you will not regret it and nothing will be done against your will. Perhaps you have children or just want to visit for treatment. I urge to join this practice and be reassured and happy as I am.
Happy Patients
I can't thank you enough for the gift of straight teeth! Thank you for your expertise, always being so friendly and helpful and for going the extra mile in fitting me in your Saturdays and after work too. I appreciate all that you have done for me.
Your Straight Teeth Experts
Our friendly and experienced dental team is here to help you. Click on the images below to learn more about your dental team.
Don't wait another year, your dream smile is just a click away
Speak to one of our friendly team members now to get more information
Speak to our experts now